Tips for Maximizing Your Conversions
Congratulations!! You've won the marketing battle and for you spoils you have a new lead. Well the war isn't over, now comes the battle to convert that lead into a customer. The sales follow-up is an essential part of any successful sales process. It's not just about making initial contact with potential customers. The follow-up process is what helps build relationships and ultimately close deals. Here are some tips for maximizing your conversions through effective sales follow-up and to win the next battle:
Have a plan
Before you start making follow-up calls or sending follow-up emails, have a plan in place. Decide how often you will follow up, what you will say, and what your ultimate goal is. Create a timeline and stick to it.
Use a CRM system
A Customer Relationship Management (CRM) system can help you keep track of all your leads and follow-ups, making it easier to stay organized and focused. It can help you track when you last contacted a potential customer and what was discussed during the conversation.
Personalize your communication
When following up with a potential customer, personalize your communication. Reference specific conversations you had, address them by name, and use a tone that is friendly and engaging. Make them feel valued and important.
Be persistent
Don't give up after just one follow-up attempt. It can take several follow-ups before a potential customer is ready to make a purchase. Keep trying, but don't be too aggressive. Respect their decision and their time.
Offer value
When following up, offer something of value to the potential customer. This could be a helpful article, a free trial, or a special discount. By providing value, you build trust and show that you are genuinely interested in helping the customer. This can also help establish you as an expert in your field.
Timing is everything
Timing is crucial when it comes to follow-up. Follow up too soon, and you risk being seen as pushy. Wait too long, and the potential customer may have already moved on. Find the right balance and follow up at a time that is convenient for the customer.
Keep it simple
Keep your follow-up communication simple and to the point. Be clear about what you're offering and what you want from the potential customer. Don't overwhelm them with too much information or too many options.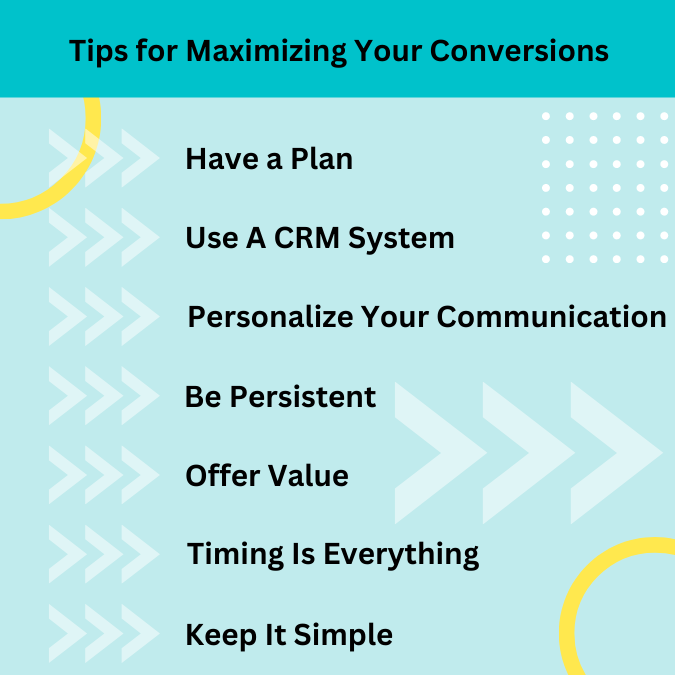 A sales follow-up is a critical component of any successful sales process. By having a plan, using a CRM system, personalizing your communication, being persistent, offering value, timing it right, and keeping it simple, you can maximize your conversions and ultimately close more deals. Remember that every follow-up is an opportunity to build a relationship with a potential customer and establish yourself as a trusted advisor.