Leave Something As Important As Your Social Media To The Pros!
If you've ever tried to maintain your business's Social Media presence, you know it's a full time job. As Facebook evolves into the Meta-verse, Instagram changes their ranking algorithm, and Tik Tok takes over the world, there is more to research and stay up with than ever before.
Running your business is tough enough, you need a team of expert Social Media manager to help you save time, stay engaged with your audience, and increase visibility on your brand. Consistent management and Social Media usage has proven to increase traffic to your website and events and result in increased conversions and sales. Social Media is another tool in the Internet Marketing tool belt that can help take you to the next level.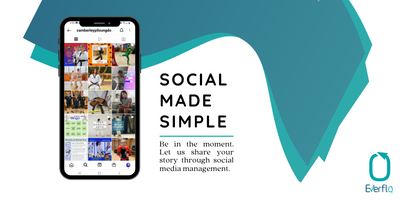 Expert Social Media Management Designed To Engage Your Unique Audience!
Maximize your online presence by including Social Media Management services into your overall marketing strategy. Our experts can attract, nurture, and convert followers into loyal customers. Everflo's Social Media Management services deliver an all-encompassing social marketing service to businesses of all types.
Our Social Media Management offering includes:
Choose between organic or paid social services, or go with both to increase your reach
Never miss an opportunity to engage in conversations initiated by clients and customers
Get content tailored to your needs and catered to your target audience
Efficiently use your budget and resources
5 Star Social Media Management Services You Can Rely On!
More and more small businesses are choosing to collaborate with experts for their Social Media Management. Don't be left behind by your competitors. Everflo will assist you to build an efficient and effective Social Media presence that will get your fans and clients while building a brand to be trusted.
To learn more about what Everflo can offer, fill out the short form on the side of this page. Talk to one of our experts on how they can create an online presence to envy.